Monthly E-Newsletter for
February 2017
---
Dear Friends,
With your help, we're serving more people with more support than ever. We're excited about the March benefit concert and golf tournament. Details about why the South is the epicenter of HIV in the US. A "thank you" event with appetizers like fried mac 'n' cheese balls. Our 2017 Treasures for TIHAN website has details about donating items, volunteers, buying tickets, and more (and the Facebook event is here). Information about all this and other upcoming events and opportunities, reminding us to honor and celebrate life and each other, is below! Check it out!
Scott Blades
Executive Director
---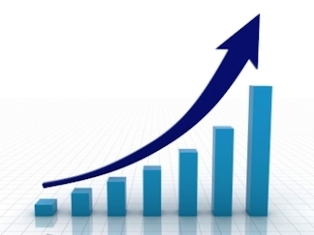 With Your Support, TIHAN Continues Increasing Services Each Year
In the year 2016, TIHAN served more individuals living with HIV than the year before; and the people we serve utilized a broader range of TIHAN's programs and services; and on average, they used each service a greater number of times. More people, more services, more often.
In particular, TIHAN Link Specialist volunteers donated 26% more hours of their time to this program than they had the previous year – resulting in more weekly check-in calls being made to CarePartners, more CarePartners staying connected to services and to TIHAN, more CarePackages being distributed, and more information & referral services being provided. Link Specialists served 14% more people than they had in 2015.
The demand for CarePackages, bags available on a monthly basis that are filled with toiletry and cleaning items, continues to increase. TIHAN distributed 173 more CarePackages throughout 2016 than the previous year. This includes an increase of 11% in the number of individuals living with HIV who accessed this program – ultimately helping 271 CarePartners with practical support that translates into financial savings and helping with health and hygiene.
Additionally in 2016:
22 individuals living with HIV received a financial assistance referral to one of TIHAN's partner agencies;

92 CarePartners attended one or more Living Well With HIV classes;

109 people received vouchers for a free monthly breakfast at Mother Hubbard's Café;

204 persons living with HIV enjoyed meals and social support at Poz Café; and

274 people utilized Link Specialist support.
TIHAN has grown from serving 306 individuals living with HIV in 2014, to 326 individuals in 2015, to 343 individuals in 2016. None of this would be possible without your support! Thank you!
---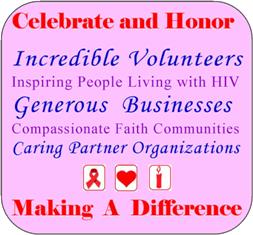 Let Us Celebrate You and Us And What We Do Together! TIHAN's Annual Meeting and Appreciation Party
TIHAN's Annual Meeting will take place on Tuesday, March 7 at St. Michael's and All Angels Episcopal Church (602 N. Wilmot on the corner of 5th Street and Wilmot). The reception begins at 5:30pm and the annual "year in pictures" slideshow and awards ceremony runs from 6:00-7:00pm.
This event is a great way to meet and celebrate the people who work so hard at TIHAN, to acknowledge TIHAN's dedicated volunteers, and to reflect back on 2016 while indulging in good food and good company!
Featuring: Chef Roy's fabulous hors d'oeuvres*, our annual slide show highlighting the people and events of 2016, presentation and approval of our Board of Directors, and our Volunteer, Donor, and Partner Recognition Awards. Whether you want to know more about TIHAN, or you are heavily involved, it's a great overview of our people and programs from 2016 — join us!
RSVP to 299-6647 or
VolunteerCoordinator@tihan.org
* Chef Roy's Menu of Hors d'Oeuvres for our event:
Fried Mac & Cheese Balls

Spinach & Ricotta Stuffed Mushrooms

Mini Chicken & Waffles

Fruit & Cheese

Shredded Beef Empanadas

Buffalo Chicken Empanadas

Homemade Guacamole & Salsa with tortilla chips

Caprese Bruschetta

Bite-size Oreo Cheesecakes

Chocolate Orange Brownie Bites
Coffee, iced tea, and water will also be available.
---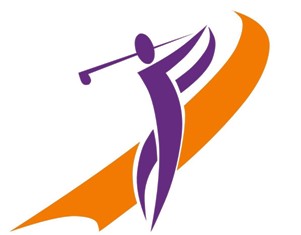 SWINGING@AIDS: March's Benefit Golf Tournament, Musical Concert, 50/50 Drawing, and More!
Swinging@AIDS is a golf tournament and related benefit concert raising funds for the programs and services of TIHAN as well as the Children of Africa Hope Mission School in Kenya.
For information about the March benefit concert featuring Diane Van Duerzen, Lisa Otey, Kelly Triplett, and MORE, click here.
For information about the March 25 Swinging@AIDS Golf Tournament and Silent Auction at The Views Golf Course (an 18-hole, desert-inspired championship golf course with breathtaking views in a picture perfect setting in Oro Valley), click here.
You can also purchase tickets for the 50/50 drawing ($10 each) – info here.
For more information about all these great ways to have fun while supporting people with HIV both locally and globally, contact Claudia Svarstad at 303-594-8027 or CSvarstad@aol.com
---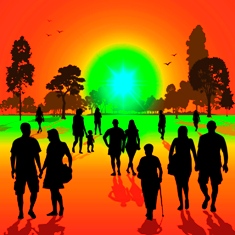 Moving Well Together: Join us for a social event / TIHAN walking group at Reid Park
Get out and get moving! Join us for a free group walk (at your own pace) — open to TIHAN and our network of friends — volunteers, donors, CarePartners, kids: everyone and anyone.
Just show up and walk with us on Wednesday, February 22 at 5:30pm at the Reid Park walking path. It's just a social event to encourage people to get out and exercise a bit together. Some of us will walk very slow and just a few blocks, and some will walk faster or farther. Younger or older, positive or not, beginner or experienced, involved or just a friend, everyone is welcome.
The most important thing isn't how fast or how many miles you want to walk, but that we all do what we're comfortable with, and we get out and move — together! Bring your friends or kids or come solo. We'll meet at the southeast corner of Broadway Boulevard and Randolph Way, right at the stop light across from main entrance to El Con Mall (and just east of the Bank of America), and we'll walk the path. Join us!
---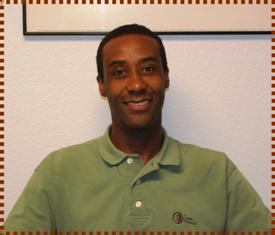 TIHAN and Other Tucson Agencies Help Michael Feel He's Not Alone
In 1993, Michael was in his twenties and attending Arizona State University. He was home in Denver, Colorado to visit family, and decided to get tested for HIV during a trip to the store with his mother. A few weeks later, Michael received a call from the Colorado AIDS Project with his results: Michael was living with HIV.
"At first I was shocked, and then I was nervous about it. I thought 'oh gosh… death sentence.' But once she told me that there was treatment out there, I felt better. I kept it to myself for a few years. I was only 23 at the time. But once I became comfortable knowing it wasn't the end of the world, I became accustomed to it and told my mother. She was concerned at first, but she took it relatively well. She comforted me, and then eventually, I told other relatives. I had a very good support system."
Michael decided to move to Tucson in 2015, and did all of the research himself on what organizations were available. "I looked up stuff on the Internet, and also looked through the phone book. The County Health Department provided me with some referrals, which led me to call SAAF [the Southern Arizona AIDS Foundation], and then SAAF referred me to TIHAN." In the three months that Michael has been registered with TIHAN, he has attended the December Poz Café Holiday Party and received monthly CarePackages and the financial assistance referral program. "I utilize the help with the toiletries because it helps supplement my income and saves the little money that I do have. I don't have to struggle to pay for those extra things, and I am grateful for that. The Link Specialist volunteers are also great in talking to you and explaining other services available within the community. I appreciate TIHAN helping me with my needs."
When asked about the overall impact that TIHAN, SAAF, and the Petersen HIV Clinic have had on his life, Michael was happy to comment. "There are people out there who care and show you that you are not alone… The stigma of being HIV positive is decreasing, and once you come to realize that, you go to these different organizations that have helped me out, and you see that there are other people out there just like me who are dealing with this illness."
---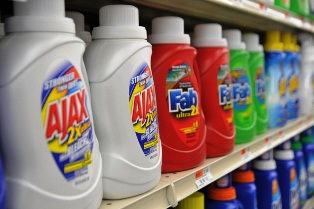 Continuing Request for Donations of Detergent
Thank you to everyone who has helped in the last month with our call for donations of laundry and dish detergent. As you may have read in last month's e-newsletter, it seems we can never stock enough of these two items, and CarePartners frequently request them both when stopping by the office to pick up monthly CarePackages. TIHAN's end-of-year statistics show that we distributed 825 CarePackages from the office in 2016 – which is 251 more than in 2015!
The need does not appear to be slowing down, which means your help is needed now more than ever. Please consider picking up laundry or dish detergent (or both!) during your next trip to the store. We welcome donations in liquid, powder or even pod form, as long as the containers are not too bulky. Donations can be dropped off at the TIHAN office Monday through Friday, from 8:30am to 4:30pm.
---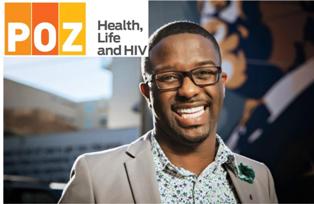 HIV News: Why the South is the Epicenter and How HIV Impacts Black Gay Men

The epicenter of the HIV epidemic in the United States is the South, where about half of all people living with HIV in the United States live. Nationally, Black gay and bisexual men account for about one in every four new infections.

In February, we commemorate both Black History Month and National Black HIV/AIDS Awareness Day, and we found an important article sharing insight about HIV in the South and among African-American men who are gay or bi. We invite you to take a few minutes and learn more about these important issues.

Click here for the article "Southern Exposure" from Poz Magazine

...
---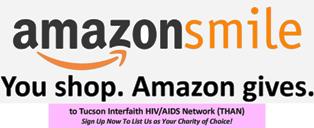 Amazon Will Give to TIHAN When You Shop!
Amazon will donate 0.5% of the price of your eligible purchases to TIHAN when you shop on AmazonSmile. AmazonSmile is the same Amazon you already know. Same products, same prices, same service. Start your shopping at smile.amazon.com and support TIHAN by logging in here: http://smile.amazon.com/ch/86-0819574, or just log on to Amazon as you normally do and search for Amazon Smile's list of charities and enter our name. Thank you!
---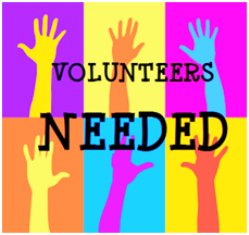 "Spring" into Action by Becoming a TIHAN Volunteer!
Here's a great way to celebrate spring: sign up for our next Volunteer Orientation, which takes place on Tuesday, March 21 from 12:30 to 4:30pm! We're recruiting volunteers for direct services (helping support people with HIV) as well as administrative and fundraising roles.
Volunteer opportunities include:
"Treasures for TIHAN" Auction Planning Team Members

"Treasures for TIHAN" Auction Item Solicitors

A Website Support Volunteer

Database Entry Team Members

Community Ambassadors

Support roles for our volunteer program

Support roles for Care & Support

Link Specialists, especially Spanish-speaking
You can also find the complete list of our current volunteer openings by clicking on "Volunteer" at the top of this page, then on "Volunteer Opportunities." One of them might be just right for you! Or, contact our Volunteer Coordinator at 299-6647 ext 206 or VolunteerCoordinator@tihan.org
---
Home|Education|Volunteer
Donate|Community
---
Site design: MiLo Studios|Maintained by Phil Moul
©1998-2017 Tucson Interfaith HIV/AIDS Network
A 501(c)(3) Non-Profit Organization