Monthly E-Newsletter for
March 2017
---
Dear Friends,
Hope to see you at our annual meeting and appreciation event on Tuesday, March 7. Friends, food, inspiration, and a celebration of community—free and open to all! Information about this and other upcoming events and opportunities is below!
Scott Blades
Executive Director
---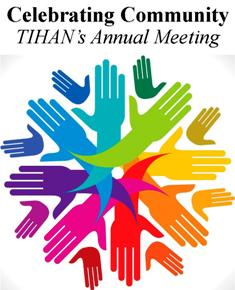 Let Us Celebrate Community! TIHAN's Annual Meeting and Volunteer Appreciation Event
TIHAN's Annual Meeting will take place on Tuesday, March 7 at St. Michael's and All Angels Episcopal Church (602 N. Wilmot, on the corner of 5th Street and Wilmot). The reception begins at 5:30pm and the annual "year in pictures" slideshow and awards ceremony runs from 6:00-7:00pm.
This event is a great way to meet and celebrate people, to acknowledge TIHAN's dedicated volunteers and partners, and to reflect back on 2016 while indulging in great hors d'oeuvres and good company!
Whether you want to know more about TIHAN, or you are heavily involved, it's a great overview of our people and programs from 2016—join us!
RSVP to 299-6647 or VolunteerCoordinator@tihan.org
---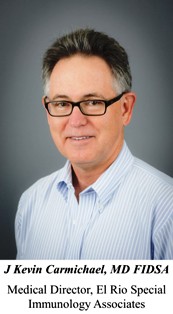 Dr. J Kevin Carmichael to Receive 2017 Center for Health and Hope Leadership Award
Working globally but headquartered in Denver, Colorado, the Center for Health and Hope announces that J. Kevin Carmichael, MD, one of Southern Arizona's outstanding HIV physicians, is the recipient of their 2017 Leadership Award.
The award will be presented at the Swinging@AIDS benefit concert on March 24 (information below). "Dr. Carmichael's lifetime of service to persons facing HIV and AIDS is extraordinary," stated the Rev. Dr. Don Messer, Executive Director of the Center for Health and Hope. "As a medical professional and humanitarian, his service in Arizona and Mexico has benefited countless individuals and families. His advocacy and care have inspired us, and we are honored to be able to recognize his contributions."
Dr. Carmichael was nominated by TIHAN. "We've worked with Dr. Carmichael for 22 years, and I have personally witnessed him time after time giving care and support to those seeking medical care for their HIV. I have seen him go above and beyond what you might expect a physician to do, providing excellent care as he helped build a state-of-the-art HIV clinic in Tucson," commented Scott Blades, Executive Director of TIHAN.
Tickets for the benefit concert and awards ceremony are $20.
ABOUT DR. KEVIN CARMICHAEL
Kevin Carmichael grew up in Miami, Florida, where he completed medical school in 1986. He was a resident in Family Medicine in Miami during the early days of HIV and, with his sister Dr. Cynthia Carmichael, wrote one of the first handbooks on HIV care.
Dr. Carmichael came to Tucson in 1990 and did a fellowship in Family Medicine at the University of Arizona. He began to care for a large number of people living with HIV and became active in the community working with the Tucson AIDS Project, Shanti, The People with AIDS Coalition of Tucson, El Proyecto Arizona y Sonora, and the Tucson Interfaith HIV/AIDS Network. In 1991 he joined the El Rio Community Health Center and began El Rio Special Immunology Associates (SIA), which was the first full-time HIV Clinic in Southern Arizona. Over the past 25 years, SIA has grown to serve approximately 1,200 persons living with HIV, providing primary and specialty care. Dr. Carmichael serves as the Medical Director for the Special Immunology Associates clinic at El Rio.
He has also been active at the national level, serving on the Board of directors of the HIV Medicine Association, a core faculty member of the International Antiviral Society, the Steering Committee of the Ryan White Medical Providers Coalition, and a member of the US Dept of Health and Human Services' Antiretroviral Guidelines Committee. When not working, Dr. Carmichael spends time with his wife and two sons enjoying the outdoors in Southern Arizona.
---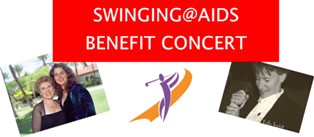 Swinging@AIDS Golf Tournament Benefit, and a Concert Featuring Diane Van Duerzen and Lisa Otey
Swinging@AIDS is a golf tournament and related benefit concert raising funds for the programs and services of TIHAN as well as the Children of Africa Hope Mission School in Kenya.
For information about the March 24 benefit concert featuring Diane Van Duerzen and Lisa Otey and their blend of hot jazz, sultry blues, and cabaret, along with Denver-based performer Kelly Triplett, a singer-songwriter as much at home with a rock song as with a country ballad, and the presentation of an award to Dr. Carmichael, click here.
For information about the March 25 Swinging@AIDS Golf Tournament and Silent Auction at The Views Golf Course (an 18-hole, desert-inspired championship golf course with breathtaking views in a picture perfect setting in Oro Valley), click here.
You can also purchase tickets for the 50/50 drawing ($10 each) – info here.
Last year's first-ever golf tournament raised $15,000 for the two organizations, and this year's event promises even more fun and a bigger impact! Please spread the word to your friends who love golf, music, and making a difference!
For more information about all these great ways to have fun while supporting people with HIV both locally and globally, contact Claudia Svarstad at 303-594-8027 or CSvarstad@aol.com
---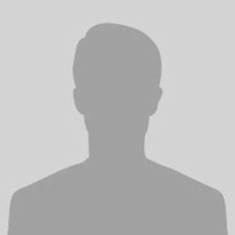 TIHAN Helps Joe, Living with HIV, to Get a Better Life Going
In the 1980s, Joe was in his 20's and living in Austin, Texas. He had been earning extra money selling plasma to a local blood bank. "On my third visit… they pulled me aside and said they couldn't take my blood anymore because I had AIDS. They were so blunt about it — it was traumatizing."
Joe was left to deal with his diagnosis largely on his own. "It was hard at first, because I knew that I had to be careful — but I didn't know anything. There was no information out there about how to live with HIV." He was doing fine physically, although at that time he was not seeing a doctor or taking any medication. But 15 years later, Joe began to feel the effects of HIV on his body. "I was working outside in the middle of the summer and I felt so cold. I didn't know what was wrong with me." Joe went to the emergency room and was immediately given antiretroviral medication for HIV. "I went through a bunch of different medications. I was taking one drug at night before going to sleep, and in the morning, I would wake up and every joint in my body would be so stiff. I couldn't straighten out. It was so painful."
Joe, who had moved to a smaller town, soon realized that he would need to move in order to get the care he needed. "There was no assistance in Odessa. They barely had a clinic there to help with the medications, and the doctor was horrible. I wasn't taking my medications just to be spiteful to everyone, and I was very angry." Joe had heard from an acquaintance that there was better care available in Tucson, and he decided to take the chance to "get a better life going."
After moving to Tucson in 2015, Joe immediately connected with SAAF, where he was encouraged to register with TIHAN. In the year and a half that Joe has been in Tucson, he has engaged with a number of TIHAN programs, including the Living Well with HIV program and CarePackages. He recently attended the Eating Well nutrition class. "It was very informative... I learned that I eat way too much salt and that tofu really isn't that bad! [The presenter] is really funny, and the way that she presents all of the information is great." Joe also appreciates the toiletries and personal care items he receives from TIHAN. "I love the CarePackages, especially the cleaning supplies, because I don't have a lot of money. The money that I do have, I am able to stretch it out even further. Plus, people tell me that my house is so clean!"
Joe feels that his move to Tucson was the right choice. "I didn't know that there was such a caring community out there. There's always support and people wanting to help." With your support, TIHAN and our programs and volunteers have been able to play a strong part in that better life that Joe has going.
---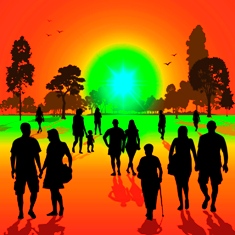 Moving Well Together: Join us for a social event / TIHAN walking group at Reid Park
Get out and get moving! Join us for a free group walk (at your own pace) — open to TIHAN and our network of friends — volunteers, donors, CarePartners, kids: everyone and anyone. Just show up and walk with us on Wednesday, March 29 at 5:30pm at the Reid Park walking path. It's just a social event to encourage people to get out and exercise a bit together. Some of us will walk very slow and just a few blocks, and some will walk faster or farther. Younger or older, positive or not, beginner or experienced, involved or just a friend, everyone is welcome.
The most important thing isn't how fast or how many miles you want to walk, but that we all do what we're comfortable with, and we get out and move — together! Bring your friends or kids or come solo. We'll meet at the northeast corner of the park at the entrance to the tennis courts (at Broadway Boulevard and Alvernon Way), and we'll walk the path. Join us!
---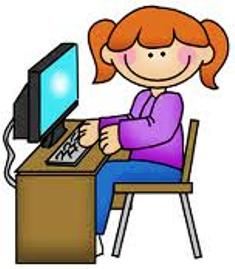 Administrative Support Needed to Keep TIHAN's Programs Going Strong
Front-line volunteers are essential in delivering TIHAN programs and services to people living with HIV — from serving food at Poz Café to registering new CarePartners in the office to delivering CarePackages to people's homes or making friendly calls and visits. But behind the scenes, we are in need of volunteer help too!
Individuals with strong computer and communication skills can help us by:
Designing newsletters, flyers, brochures, and presentations

Writing news articles

Researching community resources and keeping TIHAN's information up-to-date

Coordinating office organization, including making copies, filing paperwork, sending mail, making phone calls, and preparing for events
If any of these activities sound like something for you, please get in touch! Contact TIHAN's Volunteer Coordinator at 299-6647 or VolunteerCoordinator@tihan.org to sign up for the next Volunteer Orientation.
---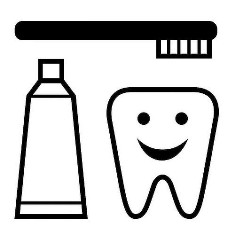 Our Toothbrushes Are Missing Their Counterpart – Toothpaste!
Did you know that variations of toothpaste have been around for thousands of years? Many of us take for granted having the resources to purchase toothpaste, ensuring the health of our teeth and gums. However, for some TIHAN CarePartners who are on a limited income, the decision to buy dental hygiene items may be a difficult one — especially because they cannot be purchased using SNAP ("food stamp") benefits.
Thanks to a generous donation last year, TIHAN currently has hundreds of toothbrushes to distribute, but no toothpaste to pair with them! Please consider picking up a few tubes of ADA-approved toothpaste on your next trip shopping. Donations can be dropped off Monday-Friday, 8:30am-4:30pm, at the TIHAN office (2660 N. 1st Avenue).
---

Getting Ready for Treasures for TIHAN
Join us on Saturday, June 3, for a night under the stars at this year's event! A fun evening of cocktails, live music and entertainment, fantastic food, and wonderful auction items, all for a great cause.
Donate an auction item – click here
!
Would you or your business/organization like to contribute an item or a gift certificate to support the cause, and receive exposure in our community of hundreds of compassionate people who share your values? Gift certificates, event tickets, ceramics, jewelry, services, trips, antiques — we like to have a wide variety of items to auction off! Contact us — we can pick up your donation.
Become a Treasures event sponsor – click here
!
Sponsorship levels begin at $500, and each level offers you a host of benefits, including free tickets, publicity, and great karma!
Sign up to volunteer at the event – click here
!
We have volunteer opportunities on the day before, the day of, the day after — and even in these weeks and months ahead of the event.
Order your event tickets online by using our secure ticket purchase link – click here
!
Event tickets are $65 in advance — get yours now!
---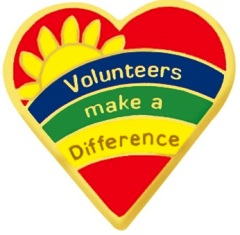 "Spring" into action by Becoming a TIHAN Volunteer!
Here's a great way to celebrate spring: sign up for our next Volunteer Orientation, which takes place on Tuesday, March 21 from 12:30pm to 4:30pm! We're recruiting volunteers for administrative, fundraising, and Care & Support roles.
Some of the many volunteer opportunities we have currently:
"Treasures for TIHAN" Auction Planning Team Members

"Treasures for TIHAN" Auction Item Solicitors

Operations Assistants

Database Entry Team Members

Community Ambassadors

Support roles for Care & Support

Link Specialists, especially Spanish-speaking
You can also find the complete list of our current volunteer openings by clicking on "Volunteer" at the top of the page, then on "Volunteer Opportunities." One of them might be just right for you! Or contact our Volunteer Coordinator at 299-6647 ext 206, or VolunteerCoordinator@tihan.org
---
Home|Education|Volunteer
Donate|Community
---
Site design: MiLo Studios|Maintained by Phil Moul
©1998-2017 Tucson Interfaith HIV/AIDS Network
A 501(c)(3) Non-Profit Organization