Monthly E-Newsletter for
October 2017
---
Dear Friends,
Thanks for caring about what is going on with our community regarding TIHAN and how you can help us better support people with HIV to live well, and how you can be part of the solution and feel good about making a difference. Take a few minutes and peruse these 10 announcements, and be in the know!
Scott Blades
Executive Director
---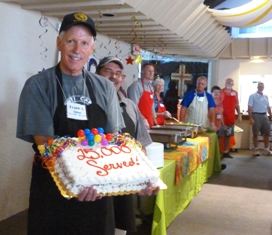 A Milestone Celebrated at Poz Café
Over the years, TIHAN has welcomed CarePartners living with HIV and their guests to a monthly luncheon created and served by volunteers. Those meals add up each month, and at the September 2017 event, we celebrated serving our 25,000th meal at Poz Café! That means 25,000 plates of delicious and nutritious food served to CarePartners, their guests, TIHAN volunteers and staff, and volunteers from each month's sponsoring faith communities.
And it means 25,000 occasions of people being present in this welcoming, supportive, stigma-busting environment. Local media shared a story on the importance of Poz Café. And we cannot emphasize enough that none of it would be possible without the ongoing support of TIHAN's volunteers, member faith communities, donors, partner agencies, and many other wonderful friends. With this milestone, we are celebrating YOU, too!
---
"Living with HIV has been difficult and unexpected, but I am persevering!"
Since he learned in 2008 that he was living with HIV, Larry has experienced several health challenges. He has, however, successfully faced every challenge that has come his way, thanks to his will to live and the support of family and organizations like TIHAN.
Larry learned about TIHAN from a family member and from his Case Manager at SAAF. He decided to explore what TIHAN has to offer. Since getting connected to TIHAN, Larry has been attending Living Well classes, which he enjoys because they keep him active and involved, and he learns a lot of new (and useful) information. Larry shared that he was recently able to help support a family member dealing with mental health issues by sharing resources he learned about at one of TIHAN's Living Well classes.
Larry also greatly appreciates that he can receive a monthly CarePackage filled with toiletries and cleaning products. And, he says, he enjoys how TIHAN's volunteers and staff members "make everyone comfortable" – regardless of who they are or what they might be dealing with.
We thank you for your support of TIHAN and our programs and services, allowing us to provide care and support to Larry and others living with HIV.
---
Older Americans With HIV: 25% of 1.2 Million Americans with HIV Are 55 or Older
About a quarter of the estimated 1.2 million people living with HIV in the United States are 55 years of age or older. While many have been living with HIV for years, some have acquired their infections more recently — about one in six new HIV diagnoses that occur each year in the U.S. are in people over 50.
In conjunction with this year's National HIV/AIDS and Aging Awareness Day, The American Foundation for AIDS Research (amfAR) interviewed Jeff Sheehy, activist and the first person openly living with HIV on the San Francisco Board of Supervisors. To access the article, which includes discussion about some of the most pressing current issues in HIV among older Americans, click here.
---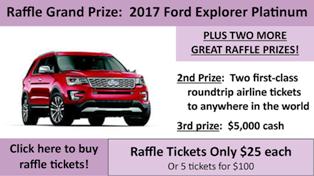 Win A New Car, First Class Air Tickets ANYWHERE, or $5,000 Cash! $25 Raffle Tickets
This year, the Jim Click Millions for Tucson Raffle features a great Raffle Grand Prize: a 2017 Ford Explorer Platinum, plus — new this year — two more great prizes. Second Prize is two first-class roundtrip airline tickets to anywhere in the world, and Third Prize is $5,000 cash!
Tickets are only $25 each, or 5 tickets for $100. For every ticket TIHAN sells, we get to keep the money to support our programs, and you get a chance at these three awesome prizes. Tickets are available at the TIHAN office or online at https://tihan.ejoinme.org/raffle.
The drawing will be held on December 14, 2017, but the deadline for purchasing tickets is December 8. A maximum of 100,000 tickets will be distributed to Southern Arizona charities to sell. You do NOT have to be present to win, but you must be 21 years of age or older to win. Get your tickets now! When $5,000 cash is only 3rd prize, you know it's a great raffle! Get tickets now, before it's too late, and buy them from TIHAN – we'll benefit too!
---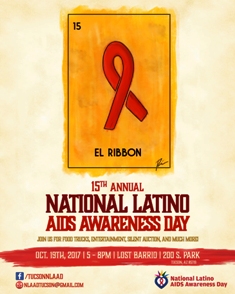 A Free Community Event – National Latino AIDS Awareness Day Block Party
In 2015, there were 40,040 cases of new HIV diagnoses in the United States. Hispanics/Latinos account for 24% of these new diagnoses, despite representing only 18 percent of the national population. According to the Latino Commission on HIV, "new HIV diagnoses among Hispanics/Latinos have remained constant during the past five years while the incidence of new diagnoses has decreased in other ethnic groups, as we see the impact of stigma, homophobia, transphobia on creating major barriers in accessing HIV testing, prevention, treatment and care in our community. Given that Hispanics/Latinos are the largest and fastest growing minority group in the U.S., addressing HIV/AIDS in this community is essential to our nation's health."
Despite the success of anti-retroviral medications that have vastly improved the health outcomes of people living with HIV, fewer than 50% of the Latinos with HIV in the U.S. are receiving these medicines to treat their HIV. We need to change this. Approximately 30% of the people living with HIV that TIHAN serves are Latino/a, and we are committed to improving health outcomes for our Latino brothers and sisters.
Please join us for a block party to commemorate National Latino AIDS Awareness Day in Southern Arizona. We're taking over the Lost Barrio (one block east of Euclid, one block south of Broadway) from 5:00-8:00pm on Thursday, October 19 for a FREE EVENT featuring food trucks, aguas frescas, entertainment including mariachis, a cake walk, a silent auction, and an informational health resource fair with lots of important information on how to take care of yourself and your loved ones. This event is free and open for all ages. Join us!
---
Farewell to Roy and Rolly
Our Poz Café Kitchen/Menu Supervisor Roy DeBise is moving in November to California, where his husband Rolly has been appointed to serve at a local church. We're having a TIHAN going-away party for Roy and Rolly on Monday, October 30, at a location to be determined, from 5:30pm-7:00pm. If you'd like to join us, please RSVP to Scott@tihan.org for additional details.
Join us as we thank Roy for his years of service, his thousands of excellent meals, the improvements he's made to TIHAN, and all the love he and Rolly have shared with us!
---

Recruiting for a few Volunteer Roles
There's still time to sign up for the last Volunteer Orientation of the year. Our upcoming Volunteer Orientation is on Tuesday, November 14 from 12:30pm-4:30pm. We're recruiting volunteers for some key administrative and Care & Support roles:
You can also find the complete list of our current volunteer openings by clicking on "Volunteer" above,then on "Volunteer Opportunities." One of them might be just right for you! Call or email Dennisse, our Volunteer Coordinator, at 299-6647 ext 206, or VolunteerCoordinator@tihan.org
---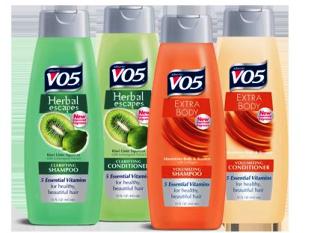 Shampoo Donations Desired
Thank you to everyone who saw last month's newsletter and donated detergent and bars of soap. Your generosity made it possible for CarePartners living with HIV to receive these crucial products in their CarePackages for September. Currently, we are in need of shampoo and conditioner so that everyone who needs them can receive them. Please consider making a donation of shampoo, conditioner, or a 2-in-1 combo. These items can be dropped off at the TIHAN office Monday through Friday, 8:30am-4:30pm. Thank you!
---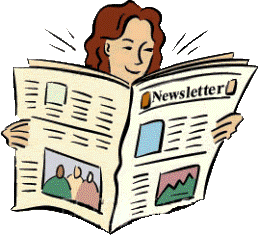 The TIHAN Newsletter Brigade needs YOU!
Our next quarterly newsletter production party is Monday, October 30 through Thursday, November 02. Our quarterly newsletter party is a wonderful group event – friendly, interesting people, easy work, and it helps us create and send out our information with the community. We can use your energy (and smile) for a few hours, or even for a morning, afternoon, or the entire four days.
Folding, stickering, labeling, and sorting will take place in the TIHAN office from 9:00am to 4:00pm Monday, October 30 through Thursday, November 02. Please RSVP by phone or email to Maggie McCann, Operations Manager, at 299-6647 ext. 204 or OperationsManager@tihan.org. Refreshments will be provided, and if you are interested in sponsoring one of the lunches during the newsletter party week, please let us know. We hope you can join us!
---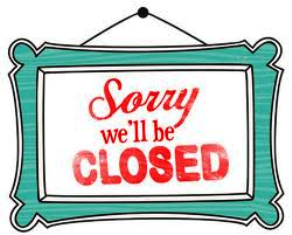 TIHAN Office Holiday Schedule
Please note that the TIHAN office will be closed on the following days:
Friday, November 10, 2017 in observance of Veterans Day

Thursday, November 23 and
Friday, November 24 in observance of Thanksgiving Day

Monday, December 25 in observance of Christmas Day

Monday, January 01, 2018 in observance of New Years Day
---
Home|Education|Volunteer
Donate|Community
---
Site design: MiLo Studios|Maintained by Phil Moul
©1998-2017 Tucson Interfaith HIV/AIDS Network
A 501(c)(3) Non-Profit Organization