Monthly E-Newsletter for
November 2016
---
Dear Friends,
As we approach the Thanksgiving holiday, we hope you know how much we appreciate you! TIHAN is blessed with wonderful volunteers, donors, CarePartners, and colleagues, and we are grateful to work together with you to build a healthier and more compassionate community…
Thank you for joining us, sharing your blessings, and helping us support people with HIV to live well.
Here are a few announcements to help keep you connected and informed about TIHAN and all our happenings.
Happy Thanksgiving!
---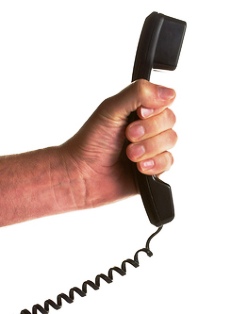 How Practical and Emotional Support Helps James Live Better with HIV
James recently tested positive for HIV. Although he had been getting tested annually with the same negative results, a friend of his tested positive during a trip to the emergency room in December of 2013; that experience made James think twice. He decided to get tested again.
"At the time that they did the test, I kind of knew what the results were going to be. I was shocked and not shocked at the same time."
James knew the next step would be to get into medical care. He called El Rio Special Immunology Associates, but first needed to get the results of a confirmatory test, which took nearly a month. "I got the confirmation notice on Christmas Eve. I told my sister around the end of February. She wanted to get herself educated right away. She asked me about my viral load and CD4 count and was very supportive."
Of his team at El Rio, James says they are "a fantastic medical group." He had a massive heart attack at the age of 50, and has endured a few other health setbacks. However, El Rio has referred him to other specialists who are able to help manage his care. When it comes to his HIV medications, James did not start taking them right away, due to some trepidation. "I was very unsure. I educated myself about all of the meds, and then I was able to better understand what [my doctor] was telling me. And they wanted to make sure that I was in a good spot to take my meds every day for the rest of my life."
James learned about TIHAN through two people with close TIHAN associations — one a CarePartner and one a volunteer/donor — and decided to come to the office to register. Although James is not able to attend as many TIHAN events as he would like due to transportation issues, he greatly appreciates receiving monthly CarePackages. "Certainly TIHAN has had its impact in areas that no one ever offers — in allowing me to live in a clean environment. It's great that you guys do the cleaning supplies because I am on food stamps and I wouldn't be able to buy these things." Due to some recent personal challenges, James also requested regular phone calls to check in on him and see how he's doing. Our Link Specialist volunteers are calling him every other day. "I think that you guys are a great organization, and you have really helped me out recently with the calls. That has been very good."
When asked what advice he would give to someone who is newly diagnosed, James responded, "Keep your faith most of all, and don't be afraid. The world is not over. Ask questions, and make sure that you understand what is being asked of you. It's important that you play a part in your medical care."
Finally, James warns against allowing oneself to become isolated. "If you're able to get out and be mobile, then definitely do that. Get involved with things that are offered to you."
Thanks to the support of TIHAN volunteers and donors and other friends, we are able to continue offering programs and services to CarePartners like James — when sometimes just a phone call can make all the difference.
---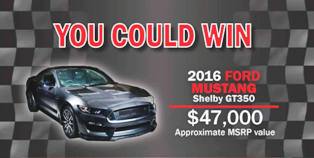 Last Chance to Win this 2016 Ford Mustang Shelby GT350 – Tickets $25
The iconic Mustang, an American muscle car, burst onto the scene in 1964 and never looked back. The Ford Motor Company is building 4,300 of these Shelby GT350s this year, making this a collector's item (with an MSRP of $47,000). Now, one of these cars can be yours via the Jim Click Millions for Tucson car raffle! Raffle tickets are only $25 each, or buy 5 chances for $100. All proceeds from raffle ticket sales through TIHAN will be retained by TIHAN for our programs and services, thanks to Jim Click Automotive Team.
Tickets can be purchased here or through the TIHAN office. The drawing will be held on December 15, 2016, but the deadline for purchasing tickets is December 9. A maximum of 100,000 tickets will be distributed to Southern Arizona charities to sell. You do not have to be present to win. Persons must be 21 years of age or older to win.
---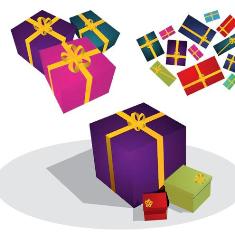 Sharing Love and Gifts for the Holidays
TIHAN staff and volunteers are gearing up for our two winter holiday programs: Family Day, a fun event for adults living with HIV and their children, and the special December Poz Café Dinner Dance. With these two events coming up, it's our busiest time of year.
The winter holiday events help to make the season more warm and special for many CarePartners living with HIV, who may not have a wide circle of family or friends nearby to spend time with. In addition, we collect gift donations to hopefully ensure that every CarePartner receives at least one gift this holiday season. Any gifts you are able to donate are much appreciated!
Our greatest need is gifts for adult males, so please keep this in mind as you spread the word. (If thinking of a gift for that demographic is challenging for you, contact ProgramManager@tihan.org for gift ideas!) Please note the following:
Gifts must be new and unused.

Donations should be unwrapped.

Because CarePartners belong to a variety of faith traditions, or may not identify with any faith, we ask that holiday gifts do not include any religious images or messages.

It's important for us to be able to keep gifts equitable, so please look for gifts whose value is between $15 and $40.

The deadline for bringing your donation, in order for us to be able to use the gifts at our holiday programs for CarePartners, is December 1.
For more information and gift ideas, please click here.
Thank you for helping TIHAN make the holiday season more special for CarePartners and their families!
---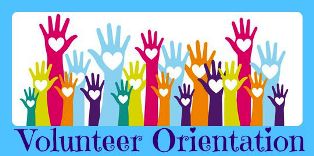 Interested in Getting Involved as a Volunteer? Next Orientation is Tuesday, November 29
It's not too early to think about becoming a TIHAN volunteer in 2017! To hit the ground running in January, why not sign up for our Tuesday, November 29 Volunteer Orientation, from 8:30am to 12:30pm? We're recruiting volunteers for both administrative and client service roles, including Community Ambassadors to help staff info tables, support roles for our programs, the Marketing Committee, Database Entry Team Members, and others. For a complete list of current opportunities, click here.
If you'd like to help people living with HIV to live well, contact Bennett D. Burke, Volunteer Coordinator, at VolunteerCoordinator@tihan.org, or call 520-299-6647 ext 206. To download a Volunteer Application Packet, click here.
---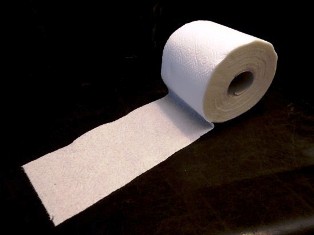 Let's Keep the Donations Rolling
Thank you to everyone who answered the call last month and donated packages of toilet tissue! We (and our CarePartners) greatly appreciate it. Please keep the donations coming! Help us to ensure that every CarePackage that we distribute to CarePartners living with HIV contains this vital item. Have you thought about asking your friends or co-workers to help gather supplies? Why not share your love of TIHAN with your social network, and feel good knowing that your efforts go directly towards helping people who are living with HIV in our community? It's not just toilet tissue — we also need laundry detergent, dish detergent, paper towels, deodorant, shampoo and other personal care items. Donations can be dropped off at the TIHAN office (2660 N. 1st Avenue) between the hours of 8:30am and 4:30pm, Monday through Friday (although we are closed on holidays).
---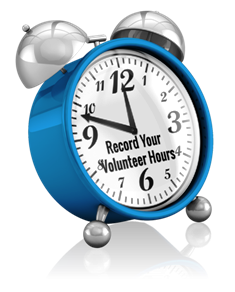 Submit Your Volunteer Hours Online!
It's time to record your volunteer hours, and now you can do it online! To try it out, click here. After you've entered your name and volunteer services, you'll have some optional questions to answer. At the bottom of this page, make sure you click "SUBMIT." You will know that your information has gone through successfully when you see the message, "Thank you! Your response has been recorded."
In the future, you can find this online form on your own:
Go to www.tihan.org

In the dark blue bar at the top, click "Volunteer"

In the list to the left, about halfway down, click "Volunteer Impact Report"

Below the first paragraph, click "NEW! Submit Your Volunteer Hours Online"
You're still welcome to use the paper version of the Volunteer Impact Report, but no matter how you report your volunteer hours, thanks for being part of the TIHAN family!
---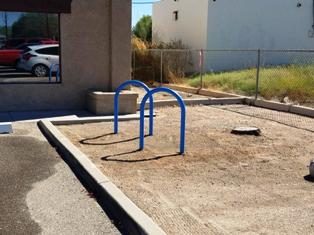 TIHAN Now Has Bicycle Racks!
Tucson's a great place to ride a bike, and now you have a place to park yours when you visit TIHAN! In partnership with United Way's "Days of Caring" and volunteers from AGM Container Controls, we installed and painted the racks on Wednesday, October 19. We hope to see your bike locked to one soon!
---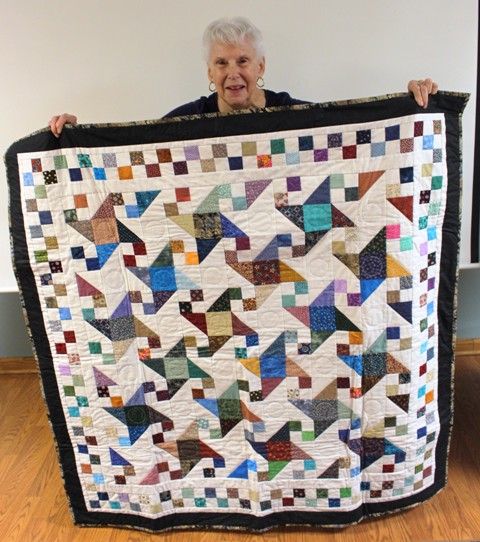 A Chance to Win this Beautiful Quilt for $5!
This beautiful hand-made quilt, titled "Stained Glass," was created by Carol Bogg, one of the founding members of TIHAN and our liaison to Casas Adobes Congregational United Church of Christ. Carol is raffling off this beautiful quilt (53˝ inches square, lap size), which took her more than 100 hours to create. All funds raised from raffle ticket sales will benefit the programs and services that TIHAN provides to help people with HIV to live well. Tickets are $5 each, or 5 tickets for $20. Raffle tickets go on sale November 6 and will last through December 18. You do NOT have to be present at the drawing to win. To purchase raffle tickets, contact Scott at scott@tihan.org. Thank you Carol and Casas Adobes UCC for your support of TIHAN and people living with HIV!
---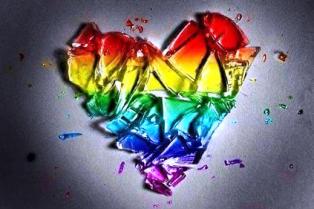 Support Resources: You Are Not Alone
Your health and well-being are foremost in our minds. We at TIHAN stand with you in good times and during challenging times. Please know that there are a wealth of mental/behavioral health resources available to offer support. For a list of resources, click here.
---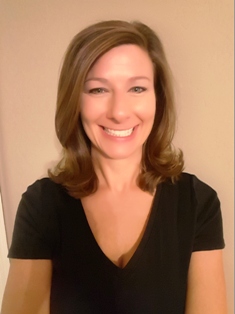 Welcome Maggie, Our New Operations Manager
We are excited to welcome Maggie McCann to the TIHAN team as our new Operations Manager. She started work this week, and Mark Rosenbaum will be training her over the next month. (Mark's plan is to continue working through December 9, then transition to a volunteer role on some special projects — stay tuned for details about a December "thank you" celebration for Mark.) We're excited to have Maggie on board, and hope you will give her a warm TIHAN welcome!
Originally from the Chicago area, Maggie came to Tucson in 1999 to attend the University of Arizona, where she obtained her degree in Psychology. She quickly found her niche in the social services sector, and throughout her career has worked for various not-for-profit organizations in Tucson and in Canada. Maggie has a wealth of experience working in Development, Volunteer Management, Direct Services, Organizational Management, and Operations. She is passionate about serving those in need throughout the community and is excited to be a part of the TIHAN family. In her free time, Maggie enjoys traveling, hiking, cooking, reading and spending time with her husband, daughter, and three rescue dogs.
As Operations Manager (full-time), Maggie will be managing TIHAN's administrative volunteer staff, overseeing daily office operations (including maintaining databases, coordinating acknowledgement of donations, maintaining office equipment and systems, and working with vendors), providing program and fundraising support, and performing many other support roles. She can be reached at OperationsManager@tihan.org or 299-6647 ext 204.
---
Home|Education|Volunteer
Donate|Community
---
Site design: MiLo Studios|Maintained by Phil Moul
©1998-2016 Tucson Interfaith HIV/AIDS Network
A 501(c)(3) Non-Profit Organization